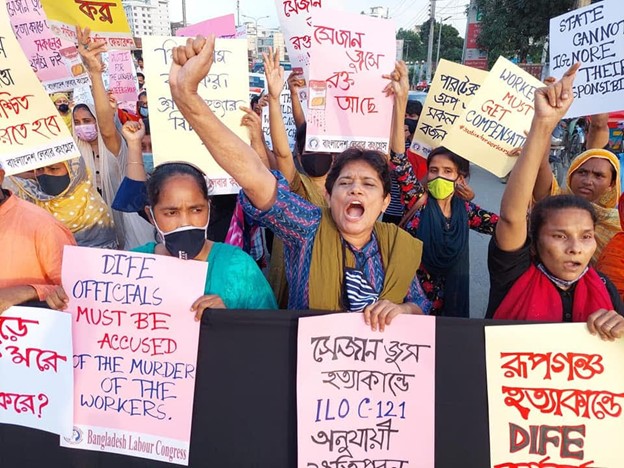 Worker rights advocates and the international human rights community are expressing sorrow, disbelief and outrage over the horrific fire at the Hashem Foods Ltd., factory in Bangladesh that killed at least 52 workers and more than a dozen children early this week. News reports say factory exits were locked, trapping the 200 workers inside. Three workers died jumping from the burning building.
"We believe that the fire has occurred as a result of non-compliance with law and safety regulations of the institution. This amounts to murder committed by the factory," three major union federations said in a statement. Chemicals and flammable substances like polythene and clarified butter contributed to the blaze in the factory, and made it more difficult to bring under control, according to CNN.
The Bangladesh Garments and Industrial Workers Federation (BGIWF), Bangladesh Independent Garment Workers Union Federation (BIGUF) and Bangladesh Center for Workers Solidarity (BCWS) went on to call on the government to immediately investigate the cause of the fire and to provide fair compensation to those injured and to the families of those killed.
The owner and several top officials at the factory, owned by Bangladeshi conglomerate Sajeeb Group's subsidiary Hashem Foods Ltd., have been arrested on murder charges. Some 2,035 people work in 11 factory buildings of Hashem Foods, which produces juice drinks, cookies and other snacks.
The fire amounts to "premeditated murder," says Nahidul Hasan Nayan, general secretary of the Sommilito Garments Sramik Federation (SGSF). "Workers whose sweat has built palaces lost their lives due to the greed of owners, their lack of accountability, irresponsibility, brutality and lack of safety at work. We demand the culprits to be brought to swift justice."
Bangladesh Accord Must Be Renewed
Worker rights advocates say the Hashem factory fire highlights the need for multinational brands to renew the Accord on Fire and Building Safety in Bangladesh, a landmark agreement that made factories safer for 2 million garment workers. Signed by fashion brands and unions in 2013, the Accord was set apart from previous safety agreements because it was legally binding, providing a key enforcement mechanism for workers and their unions to hold individual brands and retailers accountable.
The Accord was set to expire May 31, but corporate brands agreed to a three-month extension to allow for more time to conclude negotiations on a new binding safety agreement. Global union leaders and human rights activists say the Accord must also be expanded beyond fashion brands.
"While huge strides have been made in the garment industry safety—thanks to the Bangladesh Accord—it is a reminder that without robust and independent systems to enforce safe working conditions, the very worst can happen," says UNI Global Union General Secretary Christy Hoffman.
Workers say that through their unions, they are able to advocate for safe working conditions without fear of being disciplined or even fired. As with the 2013 Rana Plaza collapse, that killed more than 1,100 garment workers, and the 2012 Tazreen factory fire that killed more than 112 garment workers, those at the Hashem Foods factory did not have a union to help them fight for a safe workplace or ensure children were not employed.
Says Chandon Kumar, BIGUF president: "Government agencies create investigation committees just for show. How come they did not see child labor and insufficient fire protection? We must have the right to form unions, democratic process and the freedom to speak up."