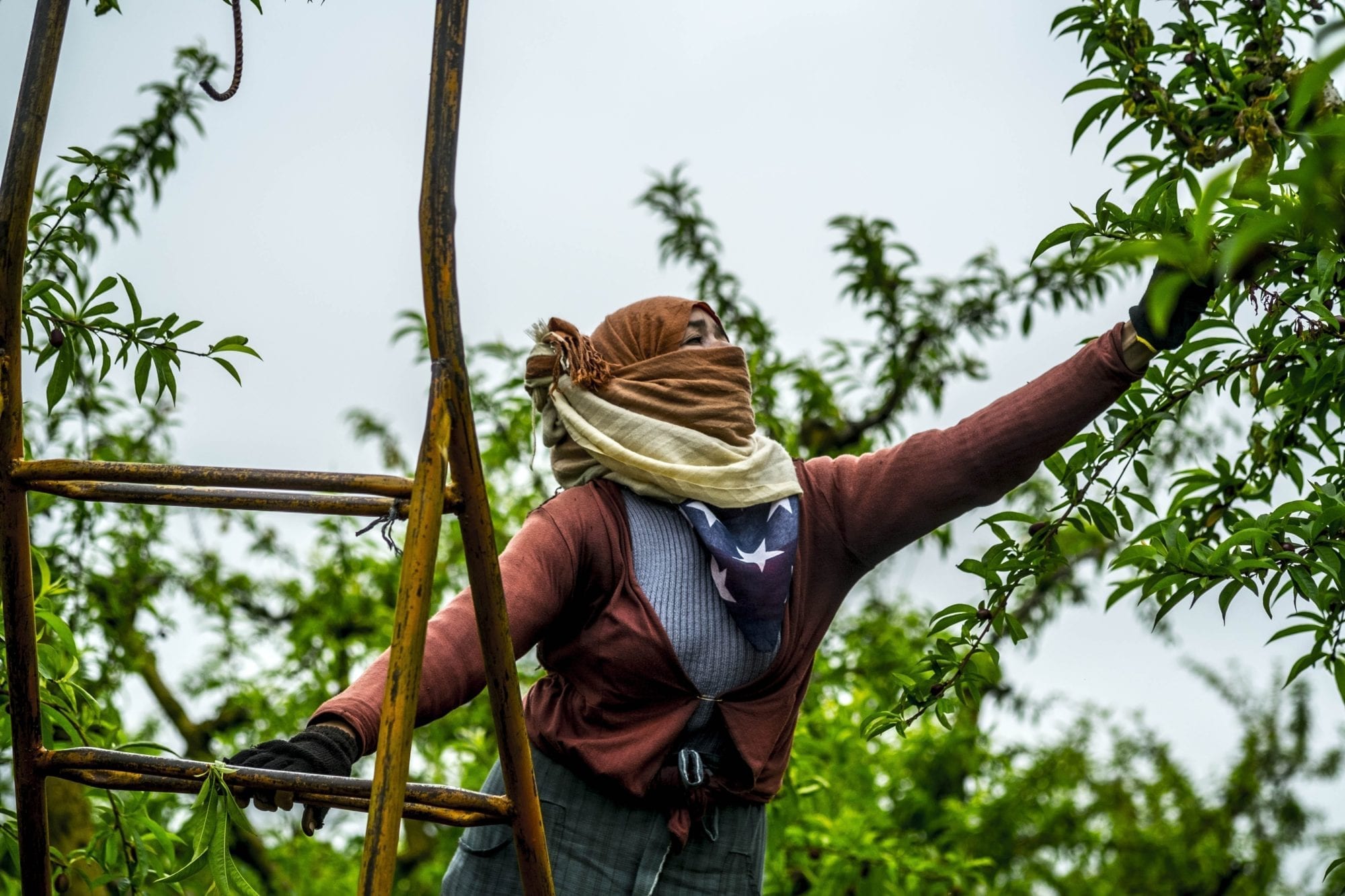 Farmworker rights advocates, policymakers and agricultural workers from Mexico, Morocco, Tunisia and the United States are set to share strategies to build worker power, create decent work in the fields and demand greater justice across global food chains in Los Angeles October 11.
The conference, "Realizing a More Fair Global Food Supply Chain," will explore farmworker organizing strategies, alliances to support worker rights across the food chain, legal initiatives to ensure decent work and the importance of workers in the advancement of sustainability and justice as our food moves from farm to table.
The event, which takes place Thursday, October 11, 2018, at the UCLA Downtown Labor Center, 675 S. Park View St, Los Angeles, CA 90057, is sponsored by the Food Chain Workers Alliance, Solidarity Center and UCLA Labor Center.


Agenda
8:30 a.m. –9:00 a.m.
Continental breakfast
9:00 a.m. – 9:30 a.m.
Opening and welcome
Art Pulaski, Executive Secretary-Treasurer and Chief Officer, California Labor Federation.
Kent Wong, Director, UCLA Labor Center
Shawna Bader-Blau, Executive Director, Solidarity Center 
9:30 a.m.– 11:00 a.m.
Building Power in the Fields
Union activists from Mexico, Morocco and Washington state will share farmworker organizing strategies.
Ramon Torres, President, Familias Unidas por la Justicia (Burlington, WA)
Saida Bentahar, Collective Bargaining Committee, Workers Democratic Federation (CDT, Morocco)
Abelina Ramirez Ruiz, Secretary of Gender Equality, 
National Independent and Democratic Union of Farmworkers (SINDJA, Mexico)
Moderator: Gaspar Rivera-Saldago, UCLA Labor Center
11:00 a.m. – 11:15 a.m.
Coffee break
11:15 a.m.– 1:00 p.m.
Strategy Session
Worker rights and sustainable food advocates will examine models of cooperation and strategies to strengthen agricultural workers through alliances across the food chain.
• Joann Lo, Co-Director, Food Chain Workers Alliance (Los Angeles, CA)
• Clare Fox, Executive Director, Los Angeles Food Policy Council
• Ryan Zinn, Regenerative Projects Manager, Dr. Bronner's
Moderator: Robert Egger, President, LA Kitchen
1:00 p.m. – 1:30 p.m.
Lunch (catered, on location)
1:30 p.m. – 3:00 p.m.
Strategy Session
Panelists will offer a global perspective on legal initiatives and strategies to support decent work and rights for workers in agriculture.
• Sami Tahri, Member-Executive Office, UGTT (Tunisian labor federation)
• Adrienne DerVartanian, Director of Immigration and Labor Rights, Farmworker Justice (Washington, DC)
Moderator: Jeff Vogt, Director, Rule of Law, Solidarity Center
3:00 p.m.–3:15 p.m.
Break
3:15 p.m. – 5:00 p.m. 
Closing: What's next?
Participants will explore the future of workers building power and voice in sustainable food chains while ensuring fairness and sustainability in agriculture supply chains.
• Sarah Gammage, Director of Gender, Economic Empowerment and Livelihoods, International Center for Research on Women (ICRW)
• Azusena Favela, Director of Programs and Operations, Leadership for Urban Renewal Network (LURN)
• Rusty Hicks, President, Los Angeles County Federation of Labor, AFL-CIO
• Lorenzo Rodríguez Jiménez, General Secretary, National Independent and Democratic Union of Farmworkers (SINDJA, Mexico)
Moderator: Shawna Bader-Blau, Solidarity Center

6:00 p.m.– 8:00 p.m.
Reception: UFCW Local 770, 630 Shatto Place, Los Angeles, CA 90005

RSVP to:  [email protected]
Learn more!

Fact Sheet: Women Workers in Agro-Industry
The Human Pain in Every Morsel You Eat [Podcast interview with Solidarity Center Executive Director Shawna Bader-Blau, min. 5:00]
Global Supply Chains: Not Every Job Is a Good Job
Modern Slavery in Company Operation & Supply Chains
Decent Work in Global Supply Chains
The Rights to Freedom of Peaceful Assembly and Association in the Workplace