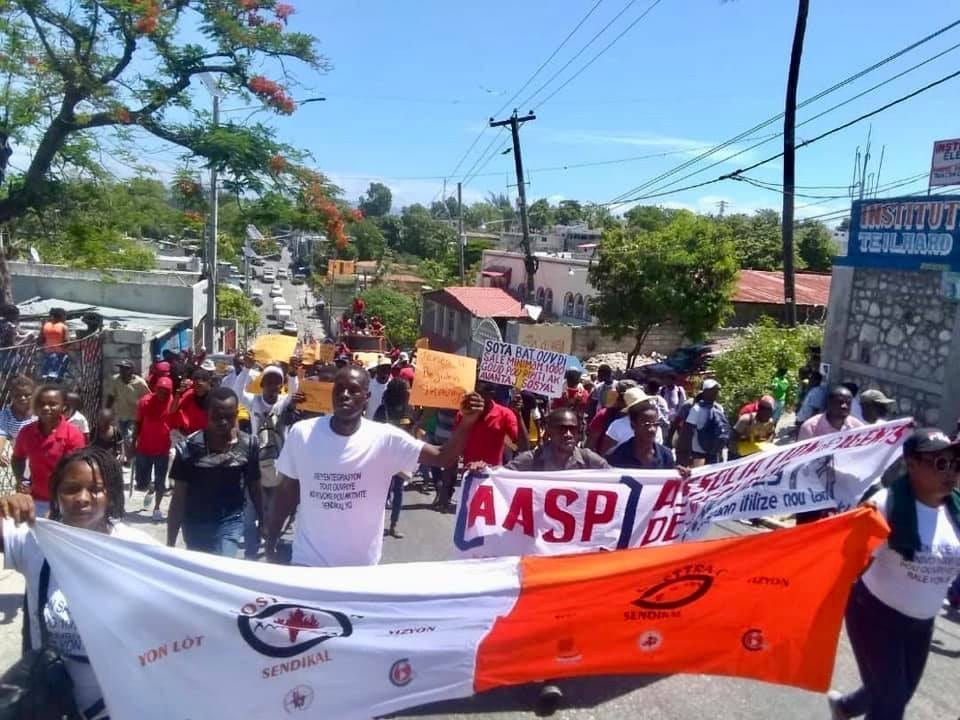 Ten years after a magnitude 7 earthquake destroyed a large swath of Haiti, killing more than 300,000 people and injuring another 1.5 million, workers and their families have not benefited from the billions in international aid that poured into country after the disaster. Nor has the government's response—expanding low-wage, garment-sector jobs—alleviated poverty. Instead, they struggle to support their families with wages too low to live on even as escalating prices for fuel and other necessities compound the difficulties in their daily effort to survive.
"Workers live day by day," says Reginald Lafontant, secretary general of the Groupement Syndicat des Travailleurs Textil pour la Reimportacion d'assemblage (GOSTTRA), a garment worker union and Solidarity Center partner.
In response to ongoing mass protests last fall against fuel and food shortages and government corruption, President Jovenel Moïse increased the minimum wage for garment workers and others in the export manufacturing sector from 420 gourdes a day to 500 gourdes ($5.09) a day. The miniscule increase left workers' wages at less than 2018 levels because of inflation, and the move infuriated workers, who told Solidarity Center staff that the new wage is not enough to pay for food, transportation, housing, children's school fees  and medical care.
Workers Need $18.30 a Day to Support Themselves
More than 60 percent of Haitians survive on less $2 a day, and more than 2.5 million people fall below the extreme poverty line of $1.23 per day. The Solidarity Center report, "The High Cost of Low Wages in Haiti," which tracked living expenses for garment workers from September 2018 through March 2019, recommends the government increase the minimum wage to an estimated $18.30 per day and allow workers to select their own representatives to the country's tripartite minimum wage committee.
The cost of living in Haiti has increased by 74 percent since the Solidarity Center's first wage assessment in 2014. Based on the current minimum wage, workers must spend more than half (55 percent) of their take-home pay on work-related transportation and a modest lunch, leaving little else to cover other necessities. Some workers say they can only afford to eat once per day.
The country's inability to provide basic goods and services affects workers' job security as well. With no propane available for cooking in the city, businesses last fall put their staff on unpaid leave. Hotels are closing and major airlines have cancelled flights to the country because of the economic and political turmoil, increasing unemployment and choking off income from much-needed tourist dollars. Haitians are outraged that the island has received millions of dollars in aid since the 2010 earthquake, but public services and infrastructure are nearly nonfunctional.
Haiti's economy, which never recovered after the earthquake and the subsequent cholera outbreak that claimed some 10,000 lives, has worsened over the past three years. The Haiti Advocacy Working Group, which includes the Solidarity Center, is calling for policies that focus on an equitable and livable future and "promote the creation of decent employment that enables Haitian workers to adequately care for themselves and their families."
Unions are in the forefront of calling for action to address the crisis. More than 40 labor organizations joined a call last fall for vast nationwide legal reforms, including free and fair elections and the resignation of Moïse. More recently, three Solidarity Center partner unions in the garment industry—GOSTTRA, Batay Ouvriye and Centrale Nationale des Ouvriers Haitiens (CNOHA)—rallied to call for better working conditions, the proper management of pension and social security funds, a living wage and government accountability for corruption.
The government failed to hold elections in October, and one-third of the Senate, the entire Chamber of Deputies and all local offices are set to expire in January 2020, setting the stage for a potential constitutional crisis and another round of widespread protests.