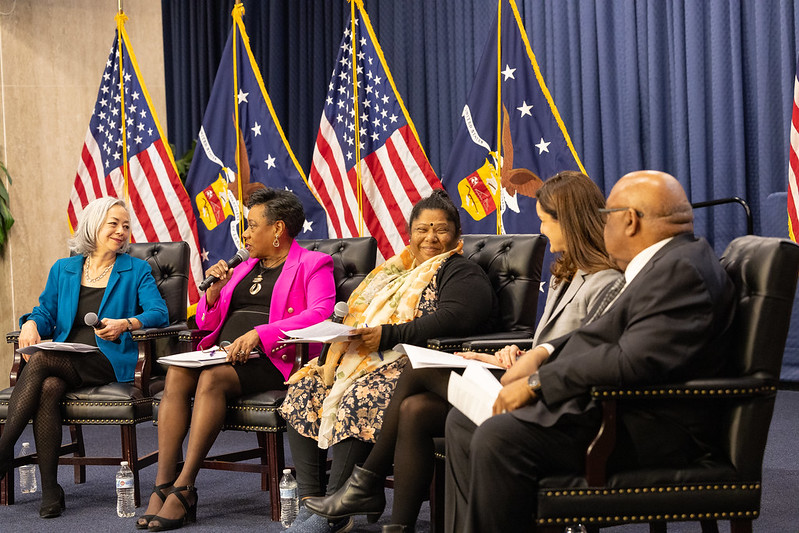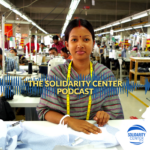 On the eve of the Summit for Democracy, high-level U.S. government officials and domestic and international labor activists highlighted the fundamental role of trade unions to reinforce, expand and protect democracy around the world at an official summit side event.
The event Tuesday, March 28, "No Democracy Without Unions: Labor Movements as Defenders of Democratic Rights," featured Kalpona Akter, executive director of the Bangladesh Center for Workers Solidarity; Fred Redmond, AFL-CIO secretary-treasurer, president of the Trade Union Confederation of the Americas and a Solidarity Center board member; Becky Pringle, president of the National Education Association; Kelly Fay Rodriguez, State Department special representative for labor affairs; and video messages from Maung Maung, president of the Confederation of Trade Unions-Myanmar, and Lizaveta Merliak, leader of Salidarnast, an association of exiled Belarus labor unionists. The event was co-hosted by the U.S. Department of Labor, U.S. Department of State and U.S. Agency for International Development.
State Department Under Secretary for Civilian Security, Democracy and Human Rights Uzra Zeya opened the event by underscoring "unions' unique and critical contributions to democratic societies." She emphasized the dangers faced by labor activists fighting for basic rights, including Chhim Sithar, a Cambodian union leader imprisoned for her organizing work, and the Belarussian union leaders recently sentenced to lengthy prison terms for exercising their fundamental right to freedom of association and assembly.  "These cases are emblematic of closing space for civil society champions writ large around the world," she said.
Deputy Undersecretary for International Affairs at the U.S. Department of Labor Thea Lee, event moderator, concurred. "Governments that cannot tolerate democracy, cannot tolerate criticism are the most vicious in silencing worker movements," she said.
"The fact the authoritarian regimes have tried to silence activists like Maung Maung and Lizaveta only underscores their leadership as champions of democracy and democratic values," Lee added. "Democratic, grassroots workers movements threaten dictatorship."
Indeed, worker movements have brought down dictatorships. Fred Redmond cited the example of Brazil, where labor led a mass civil society movement—including key strikes in the 1970s—and helped return democracy to the country and where, at the beginning of this century, the administrations of President Luiz Inácio "Lula" da Silva and President Dilma Rousseff—both former labor leaders—helped lift 40 million Brazilians out of poverty.
 "The survival of democracy anywhere depends on working people defending it," said Redmond.
The entire session can be viewed here. Solidarity Center Executive Director Shawna Bader-Blau spoke at a separate Summit for Democracy side event at the Center for Strategic and International Studies (CSIS), which can be viewed here.