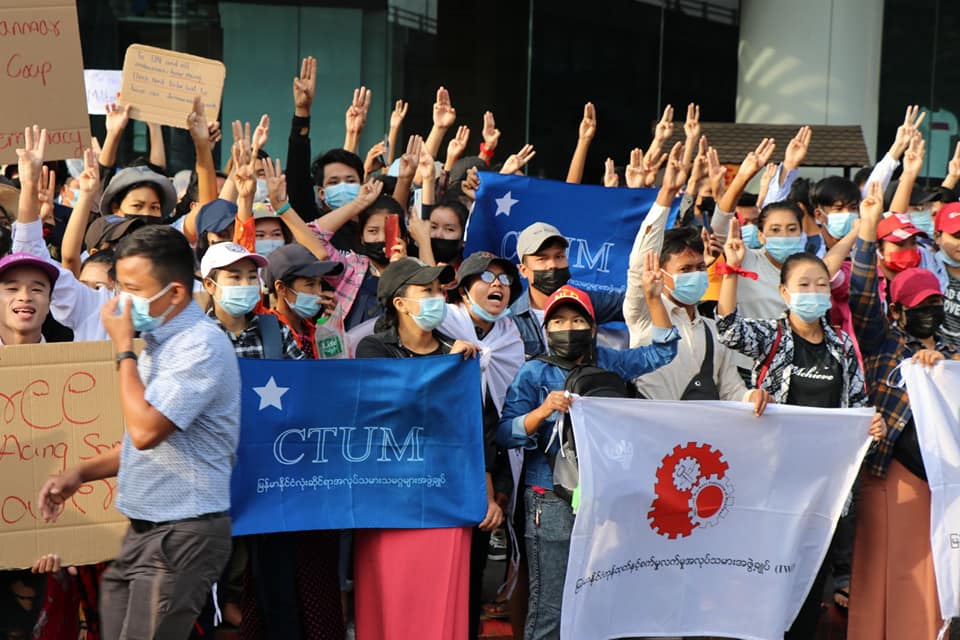 As Myanmar's military junta marks the first year of its overthrow of the country's democratically elected government February 1, delegates to a national unity assembly seeking to establish civilian control and return the country to democracy elected a five-member presidium that includes union leader Phyo Sandar Soe.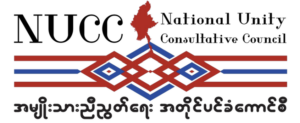 Nearly 400 delegates gathered virtually for the First People's Assembly of the National Unity Consultative Council (NUCC), where they elected Sandar, assistant general secretary of the Confederation of Trade Unions Myanmar (CTUM). She is the only woman and is the youngest person elected to the presidium.
(Take action to support a return to democracy in Myanmar.)
Delegates to the January 27–29 assembly included a broad spectrum of political parties, civil society organizations, ethnic states and organizations calling for unity and support for the "Spring Revolution."
In a statement, the assembly strongly condemned "the actions of the terrorist military junta that includes the widespread and deliberate arrest, torture and murder of innocent people … breaching international human rights laws which includes Geneva Conventions, crimes against humanity and war crimes and genocide."
Myanmar Junta's One-Year Record: Thousands Killed, Tortured
An estimated 1,500 people have been killed since the military coup, and nearly 12,000 people imprisoned, most tortured. The military has especially targeted union leaders, arresting dozens, and many have fled the country or are in hiding. Workers–women in particular–took an early lead in the protests, with the country's 450,000 garment workers especially active in organizing civil disobedience actions and shutting down factories. They have asked international corporate fashion brands to cease doing business in Myanmar until democracy is restored.
Workers today staged a silent strike across the country, to mark the anniversary in defiance of military brutality.
The assembly also is calling for the release of all political prisoners and protesters, and is urging the international community to recognize the National Unity Government (NUG) as the country's only legitimate government. The NUG includes Aung San Suu Kyi, who headed Myanmar's government before the coup and who has been arrested and jailed by the military junta.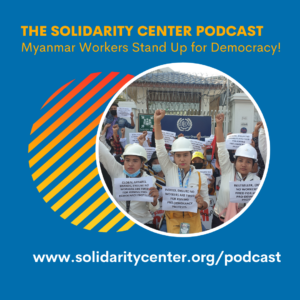 "We are facing a bloody crackdown, but all people protect each other. We are finding solutions to fight back," Sandar said on a Solidarity Center Podcast last year.
"That's why I want to tell our brothers and sisters to endure this duration because we have very high motivation to fight back against the junta." Sandar, a former garment worker, spoke from a safe house with podcast host and Solidarity Center Executive Director Shawna Bader-Blau.
Workers across the country are struggling to support themselves, as some 1.6 million jobs were lost in Myanmar in 2021, with women workers hit especially hard. Working hours are estimated to have decreased 18 percent in 2021 relative to 2020, equivalent to the working time of at least 3.1 million full-time workers. Nearly 800,000 people have been displaced and an estimated 14.4 million people, including 5 million children, are in need of humanitarian assistance.
Sharan Burrow, general secretary of the International Trade Union Confederation (ITUC), and Thomas Andrews, UN Special Rapporteur on the Situation of Human Rights in Myanmar spoke to delegates to convey their support.
'Investing in Myanmar Means Fuels Military Brutality'
Union leaders in Myanmar have been urging international corporations to pull support from the government. "If you invest in Myanmar, your investment money will go to the military regime," Sandar said on the Solidarity Center Podcast. "And then the military regime, with your money, they will keep controlling the country and they will buy guns and weapons, and then they will kill us." Unions and other civil society organizations around the world, including the Solidarity Center, have backed a statement urging international brands not to invest in Myanmar.
"There's no excuse for anyone who does business with this regime, and there's no excuse for backing the bloodshed with weapons," Burrow said on the anniversary of the coup. "That's why we are calling on the UN Security Council to enforce an arms embargo on Myanmar and enforce the General Assembly's resolution 75/287 with the member states."
Two energy firms, Total Energies and Chevron announced last week they were pulling out of Myanmar, citing widespread human rights abuses and deteriorating rule of law. Yet many other multinational corporations have not withdrawn.
Together with the United Kingdom and Canada, the U.S. Department of the Treasury's Office of Foreign Assets Control (OFAC) on January 31 announced financial sanctions against seven individuals and two entities connected to Myanmar's military regime. The action follows similar U.S. sanctions imposed last year.
Despite the hardships, union activists and other NUCC members are standing up for the restoration of democracy and fundamental human rights, with the NUCC vowing to "continue the fight for the elimination of all forms of dictatorship including military dictatorship," and build "a federal democracy union which fully guarantees democracy, national equality and self-determination with collective leadership and collective strength."