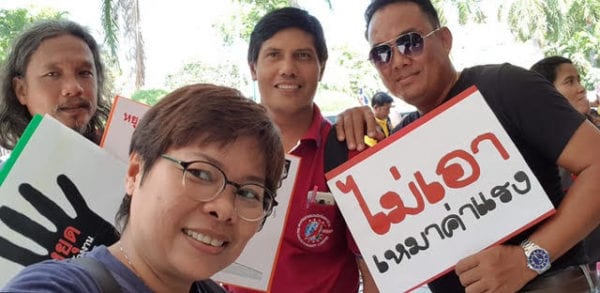 In Thailand, where automotive assembly plants have temporarily shut down due to COVID-19, the closures have reverberated throughout the country's supply chain, with many small- and medium-sized businesses laying off workers or freezing or cutting their pay. So when workers, unsure of their rights, turned for support from union organizer Mongkol Yang-ngam, he responded quickly—and creatively.
Mongkol, a seven-year organizer with the Thai Confederation of Electronic, Electrical Appliances, Auto and Metal Workers (TEAM), a long-time Solidarity Center partner, set up a "Labor Clinic" on Facebook. There, he answers questions submitted to the page and to reach as many workers as possible, posts video clips of himself responding to queries. But like any good union organizer, he also is taking the opportunity to educate and inform workers—through comedic skits that include playing guitar and singing labor songs he composed. His approach is a success: His Facebook Live events between March 31 and today, during which he answered questions and updated government's policies, have drawn 22,000 views.
Mongkol, 47 (nicknamed Poo, or "crab" in Thai), has been instrumental in helping workers form unions at workplaces such as Volvo Truck, 3K battery (owned by Hitachi), and many automotive parts factories that supply to major brands such as Toyota or Honda. He also serves as a paralegal at the Thai Labor Solidarity Committee (TLSC), a national-level trade union organization with more than 270,000 members. At TLSC, he advises workers on their right and assists them in filing grievances with the Labor Court.
Solidarity Center Senior Program Officer Piya Kritayakirana recently interviewed Mongkol about his successful outreach to workers during the novel coronavirus crisis. The interview, conducted in Thai and translated, has been edited for clarity and length.
Piya Kritayakirana: Can you please give a bit of your background and how you became a trade union organizer for TEAM?
Mongkol Yang-ngam: I grew up in Samut Sakhon (an hour outside Bangkok) where my family had a small business, and I got a job at Thai Sin rubber factory near my home. The factory was already unionized. When I was eligible to apply for union membership, there was a vacant position on the union board, so I applied and got the position.
I worked eight years in the factory, and also did an extra work to earn more income. My extra work required me to carry heavy rubber parts hundreds of times a day. I quit the factory as my body started to give out, and worked at restaurants, where I witnessed how badly workers were treated by customers, making me want to do something to help exploited workers.
PK: From my understanding, your responsibilities include organizing new unions and providing legal advocacy and assistance. Can you describe both?
MY: Trade union organizing and legal advocacy have to happen concurrently. In Thailand, employers view unions as rivals. We have to make workers confident that the union could stand against the attack and can co-exist with the employer. We have to prepare them through rights and legal education. My work providing legal assistance and advocacy is crucial, as many workers in Thailand cannot afford lawyers. The TLSC Legal Department provides free legal service and representation to fill this gap.
PK: How does the COVID-19 pandemic affect your work, both in terms of trade union organizing and legal advocacy?
MY: The pandemic heavily affects our organizing work, as we cannot meet face-to-face with workers. We try to maintain conversation though social media platforms such as Facebook or Line (a messaging app), and sometimes call to check up on the workers we are trying to organize.
The impact on legal advocacy is also huge. There are already many violations, such as layoffs or dismissals without severance pay. Court appointments are being postponed due to the pandemic, and workers seeking relief are running out of money and are forced to agree to the employers' poor offers. Most employers are using the pandemic as an excuse to deny unions' bargaining proposals, even when the records clearly show their operations have not been hurt by the crisis.
PK: When and why did you start the Labor Clinic Facebook Page?
MY: I have to give most credit Brother Chansin Sapnonwai (former union leader at Honda Automobile who briefly worked as a trade union organizer with the global union IndustriALL). In mid-2019, we both recognized workers did not like to study about labor law, but liked to watch things that were entertaining. We then came up with the idea to make the labor law education entertaining. We tried to make video clips that were not too long, to attract more workers' attention.
PK: What are the formats you use in Labor Clinic Facebook Page
MY: We try to use all available formats. I just did Facebook Live for an hour to update the situation from each company. I also use this to show how unions can be the solution for workers. I said in the Facebook Live that unionized companies such as Auto Alliance or Ford are paying workers higher than the legal requirement during the temporary suspension, while many nonunion companies ask workers to agree to wages lower than the law requires.
PK: What are the violations you find during the COVID-19 pandemic?
MY: Most violations deal with the employers' non-compliance with the law on temporary suspension of business. Section 75 of the Labor Protection Act requires employers who temporarily suspend business to pay 75 percent of wages to their workers. Many employers invoked these clauses, but then told the workers to apply for social security unemployment benefits rather than covering their workers' reduced wages. This already happens to many hotel workers.
Some companies ask workers to resign without compensation, and promise workers they would be rehired once the situation got better. I encouraged workers to be realistic. First, who knows when anything would get better? Second, how can you put all your trust in the company? Or do you put a company's hat on and think that it would actually be to their benefit to recruit a new and younger workforce with lower wages and fewer benefits? I encourage workers to get what they could for now.
PK: How do the workers who view your Facebook page use the knowledge and information you give them?
MY: After watching, they are more aware of their rights. They are also more curious and keep coming back with more questions. Once the workers learn of their rights and realize the employers have fooled them on many occasions, they become very concerned and very aware.
PK: What more do you think Thai labor movement should do to help workers during the COVID-19 crisis?
MY: First, union leaders have to keep themselves updated of the situations and policies. The government has no consistency and the employers look for any opportunity to put all burdens on workers. The work of the union leaders and activists has to be more proactive. We can no longer wait for workers to come to us with questions but we have reach out to them and try to dig in on the violations that happen to them.
My organization, TEAM, is currently compiling all the new government policies to inform and communicate broadly with workers. TLSC leadership is also talking about setting up a grievance filing center.
We also have to discover the mutual interests and concerns of all workers, educate them about the benefits of union membership and show how unions can be the solution.
PK: Lastly, what message of solidarity would you like to convey for workers around the world who are struggling through similar circumstances?
MY: This is a global crisis, and when it happens, it always impact workers the most. I want to see the global labor movement to come out and show support for each other. We have to build awareness for workers all over the world that we are the essential people who keep the world moving during the time of crisis. When we are aware, and we believe in ourselves, it will be the time we truly change the world for the better of workers.