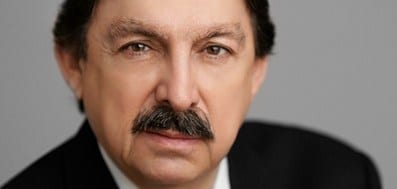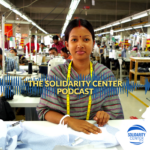 More than seven years after an explosion at Mexico's Pasta de Conchos mine killed 65 miners, 63 bodies remain buried in the mine, trapped there because the government and the company, Grupo Mexico, ended the search and closed the mine only five days after the mine collapse.
"We felt that the company and the government were more concerned about damage control than rescuing our colleagues," said Napoleón Gómez Urrutia, general secretary of the National Union of Mine and Metal Workers, known as Los Mineros. Gómez Urrutia spoke at a press conference April 17 to discuss his new book, Collapse of Dignity, The Story of A Mining Tragedy and the Fight Against Greed and Corruption in Mexico, which describes the February 2006 mine disaster and the subsequent attacks on him and Los Mineros. Most of the victims were temporary contractors with no training and insufficient oxygen supplies.
Gómez Urrutia, who had been removed as president of the 250,000-member union by the Mexican government and replaced with a company-backed rival just days before the mine disaster, was repeatedly threatened and ultimately forced into exile in Canada. He has battled ongoing attacks by the Mexican government, which repeatedly accused him of embezzling $55 million in union funds, a charge struck down multiple times by the country's courts. Last week, Interpol notified Gómez Urrutia that the information used by Mexico to request a "red notice" against him "raised strong doubts concerning its compliance with Interpol's rules."  Some 190 countries are members of Interpol, the international police organization, and a "red notice" is akin to an international arrest warrant.
Gómez Urrutia, an outspoken advocate for workers since his election as general secretary in 2002, said the book also offers a "vision of hope for the future."
"This is a story which brought about stronger international solidarity," he said. The United Steelworkers, which is helping promote the new book, partnered with Los Mineros in 2005 and in 2011, created a North American Solidarity Alliance to build common organizing and bargaining across North America. Worker rights activists have rallied worldwide in support of Los Mineros, as have organizations such as the International Trade Union Confederation and the International Labor Organization. In 2011, the AFL-CIO gave Gómez Urrutia the George Meany-Lane Kirkland Human Rights Award.
Steelworkers have set a goal of selling 44,000 copies of Collapse of Dignity to bring nationwide attention to the ongoing worker struggles in Mexico. You can purchase individual or bulk copies at the website, www.collapseofdignity.com . Discounts apply to bulk orders of 50 copies or more.
Learn more: