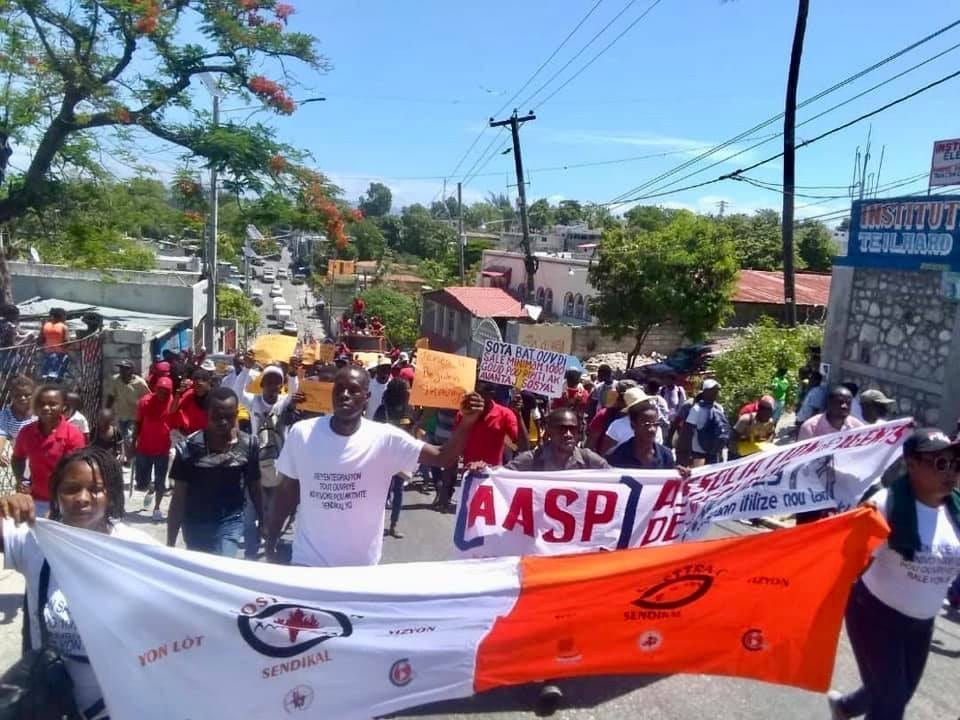 As the U.S. Congress considers renewal of the Caribbean Basin Trade Partnership Act (CBPTA) for Haiti, labor rights provisions must be enforced for trade benefits to reach 57,000 Haiti garment workers, says Solidarity Center Americas Regional Program Director Lauren Stewart.
Testifying before the House Ways and Means Committee Thursday, Stewart says labor violations persist at garment factories because authorities do not impose or collect fines for infractions and the government has not effectively enforced the law—as also noted in a 2019 U.S. State Department human rights report. Noncompliance with internationally recognized worker rights is among criteria for CBTPA eligibility for beneficiary countries. (Read Stewart's written testimony here.)
Further, trade preference programs with Haiti, such as the CBTPA, which allows duty-free access for Caribbean countries to the U.S. markets, have not specified labor rights enforcement "in a way that there is actual teeth," Stewart said.
Solidarity Center union partners in Haiti say trade agreements should specify the amount of time a factory can be in noncompliance before losing its trade preference eligibility, and should be required to demonstrate progress in remedying violations before being readmitted, she says. Further, unions say there should be a limited number of times a noncompliant factory can be admitted to trade preference programs.
Haiti Garment Workers Struggle to Form Unions
With labor abuses unaddressed, garment workers endure poor working conditions and low wages: A 2019 Solidarity Center living expense survey estimated the minimum wage for garment workers in Port-au-Prince at least three times less than basic cost of living.
But because the country has a history of repressing worker efforts to form unions to improve working conditions, many workers fear exercising their right to freedom of association.
"Trade preference programs that enforce workers' right to organize and bargain is critical to improve working conditions in Haiti," Stewart told committee members.
There is only one authentic collective bargaining agreement in the garment sector—which means "the great majority of workers are unable to negotiate higher wages and lack a voice in shaping the terms of their labor," Stewart said.
Although the CBTPA and other trade preference programs in the Caribbean Basin Initiative have stimulated Haiti's garment industry, Stewart says the economic gains of garment industry have not translated into decent wages and working conditions.
Enforcing worker rights provisions in the CBTPA is "critical to guaranteeing internationally recognized worker rights and fostering the rule of law, both of which are necessary to promote stability and economic development in Haiti," Stewart said.
The CBPTA expires September 30 and Congress is considering its renewal to 2030.
Witnesses also included Republic of Haiti Ambassador Hervé H. Denis, Georges Sassine, Association des Industries d'Haïti board member, Beth Baltzan, principal at American Phoenix Trade Advisory Services and Jerry Cook, Hanesbrands vice president for government and trade relations.