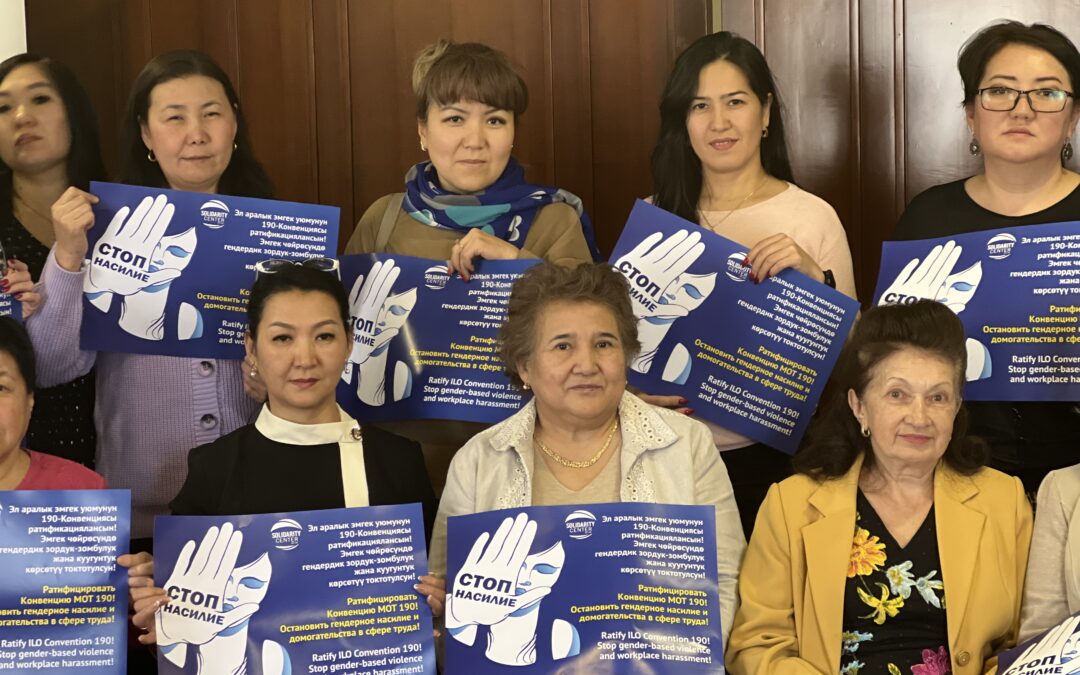 To address obstacles preventing elimination of gender-based violence and harassment (GBVH) in the world of work, union women and their allies marked International Women's Day with a public event advocating for ratification of UN International Labor Organization Convention 190 (C190).
Women in Kyrgyzstan are routinely subjected to various forms of discrimination—including unequal pay and lack of opportunities for career advancement—and harassment that includes sexual harassment, verbal abuse and even mockery, said Textile and Light Industry Trade Union Chairman Almash Zharkynbaeva.
"[GBVH] harms women's mental health and well-being, leading to long-term emotional and psychological trauma," says Zharkynbaeva.
The event was convened to recognize publication of a March 2 ratification motion that moved the draft law to parliament and, on March 8 International Women's Day, opened the draft law to public comment on Kyrgyzstan's draft law public discussion portal.
Publication of the draft law represents a three-year Solidarity Center campaign to educate government officials, labor inspectors, unions and the public on the use of C190 to end violence and harassment in the world of work. The Solidarity Center secured commitments from trade unions and parliamentarians to support the ratification process, advised on language now included in three union bargaining agreements to protect workers from violence and harassment, and coordinated a sectoral union campaign appealing to the Ministry of Labor for ratification of C190.
The convention is a powerful tool to combat discrimination and harassment in the world of work, says Eldiyar Karachalov, chair of the Republican Committee of the Trade Union of Construction and Building Materials Workers, but significant progress will require unwavering commitment from employers, workers and the government.
C190 was adopted during the ILO's annual meeting in Geneva in 2019 following a decade-long campaign by women trade unionists and feminist activists, led by the International Trade Union Confederation, the Solidarity Center and other labor allies. Since 2019, 25 countries have ratified the convention, of which ten have begun enforcement.
Hear more about the global campaign to end GBVH in the world of work.