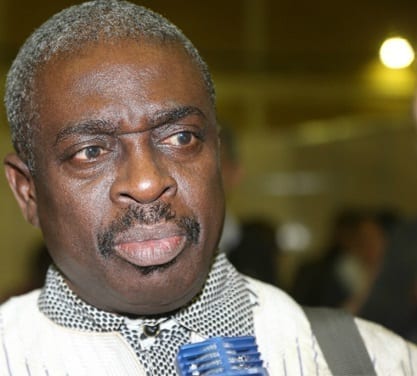 Kwasi Adu Amankwah, general secretary of the African Regional Organization of the International Trade Union Confederation (ITUC-Africa), was forcibly taken from his hotel at 2 a.m. today in Harare, Zimbabwe, where he had just arrived.
Amankwah was set to meet with leaders of the Zimbabwe Trade Union Confederation (ZCTU) when state security agents took him to Robert Mugabe International Airport, where he has been held for hours.
Officials refused to allow a lawyer from ZCTU to see Amankwah at the airport, according to ZCTU.
"It's a sad development," ZCTU President Peter Mutasa told the media. "We are in trouble as human rights defenders and trade unionists."
Other ITUC representatives from Brussels who sought to travel to Zimbabwe with Amankwah were denied visas.
In addition to the solidarity visit to ZCTU, Amankwah was scheduled to meet with the Zimbabwe Ministry of Labor and representatives of the International Labor Organization (ILO) and employers' federation.  Amankwah has not been charged nor informed of the reason for his detention, according to ZCTU.
"It is not clear why such a senior trade union leader was detained at his hotel in the early morning hours and whisked away to the airport without his belongings—and even denied food brought to him by his lawyer and trade union colleagues as he was detained at the airport," says Solidarity Center Africa Region Director Hanad Mohamud. "This after lawfully entering Zimbabwe. Why is Kwasi being targeted like this?"
In January, after tens of thousands of Zimbabweans protested a 150 percent fuel price hike, ZCTU Secretary General Japhet Moyo and Mutasa were arrested on charges of subversion and beaten in detention. They since have been released but are restricted from travel and must check in with police.
The January crackdown on worker rights' activists follows the arrest and release of Moyo, Mutasa and 33 other union leaders in October, as government officials attempted to end a nationwide protest against a financial tax increase and rising prices. Some union activists were beaten, ZCTU Harare offices were cordoned off by more than 100 police, and ZCTU leaders not already in jail were forced into hiding.
In a letter to Zimbabwe President Emmerson Mnangagwa, ITUC-Africa asks for Amankwah's release and "an unreserved apology for this action" from the Zimbabwe Department of Immigration.
The Congress of South African Trade Unions (COSATU) is among unions around the world decrying Amankwah's detention and likely deportation, condemning the move "in the strongest terms" and demanding his immediate release and freedom to meet with ZCTU and others.