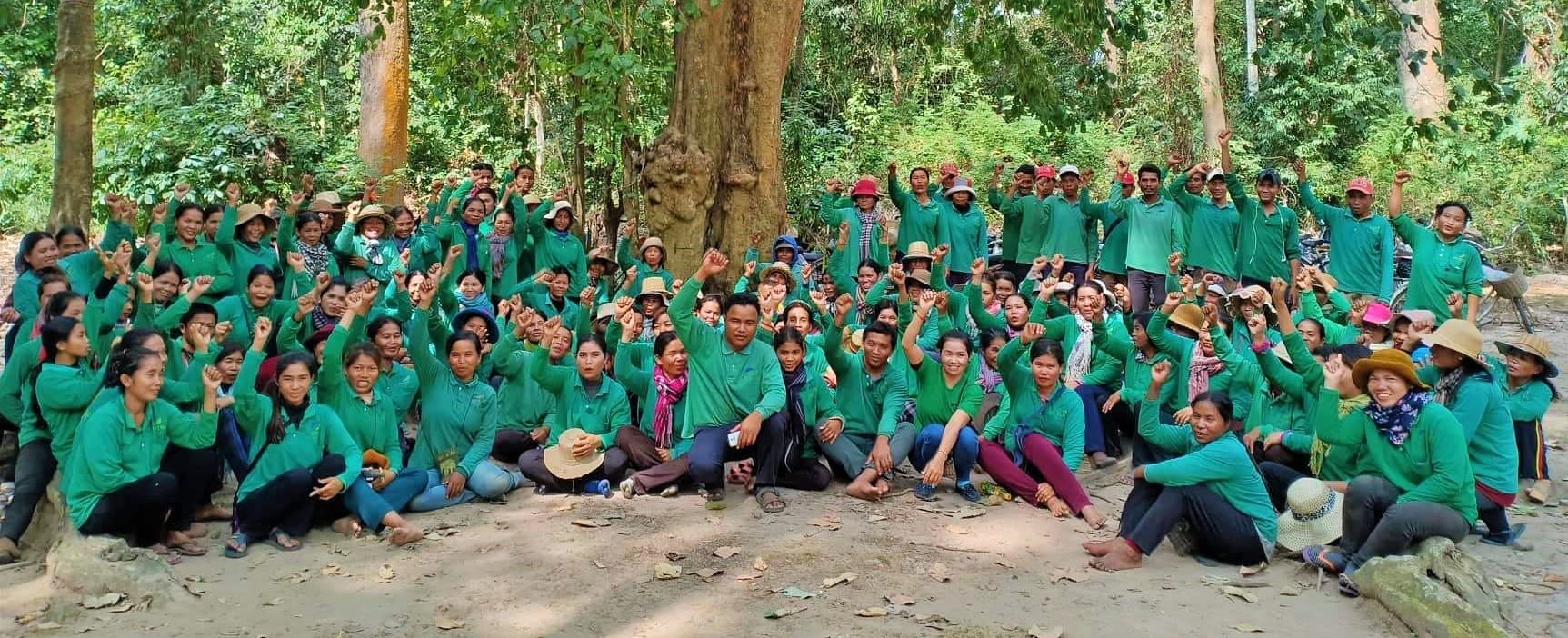 At Cambodia's iconic Angkor Archaeological Park in Siem Reap, trash collectors employed by the contractor V-Green are back on the job with a boost in pay this week after 200 workers waged weeks-long lunchtime protests for better wages, safer working conditions and improved social protections like health care.
The company agreed to increase monthly wages by $15 in 2019 and $20 in 2020, which means "workers with the lowest wage could earn up to $120 [per month] next year," local union president Tea Tuot told the Phnom Penh Post. The workers, most of whom are women, also will get a $25 per month pay boost if the agency governing the park renews the company's contract in 2020, and additional increases in the following two years.
Tea, who says the company reassigned him to a worksite far from the union members, was returned to his previous position as part of the agreement.
After workers formed the Tourism Employees Union V-Green Co. (TEUVGC) in June 2018, they successfully pushed for a monthly wage increase from $71 to $80 and some social protections through the national social security system, including access to the national health care program and worker compensation benefits.
But further talks stalled late last year, and workers say the company began to retaliate against union activists, including Tea. The company has agreed to not impede union activity or retaliate against workers involved in the union.
Throughout the workers' efforts to achieve justice on the job, the Solidarity Center provided the union, an affiliate of the Cambodian Tourism and Service Worker Federation (CTSWF), with legal and bargaining support.
Workers Don't Share in Cambodia's Booming Tourism Industry
Cambodia's tourism sector earned $3.63 billion in revenue in 2017, an increase of 13.3 percent over the previous year. Yet workers collecting trash throughout the more than 400-acre site are not provided with protective gloves and face masks, exposing them to safety and health hazards like broken glass and hazardous chemicals. They also have little job security and were not paid overtime on Sundays and holidays as required by law.
In recent years, construction and restoration workers at the Siem Reap complexes also have sought to improve their poverty wages and highly dangerous working conditions, but like many workers in Cambodia, they face big hurdles when they seek to form unions and improve their working conditions, including retaliation, violence and even imprisonment, according to the International Trade Union Confederation (ITUC).
Cambodian workers have waged few strikes in recent years since passage of a 2016 labor law that significantly limits workers' freedom to form unions and exercise their rights to collective bargaining and free assembly, and workers celebrating their victory at V-Green hope their victory bolsters' similar workers' struggles around the country.