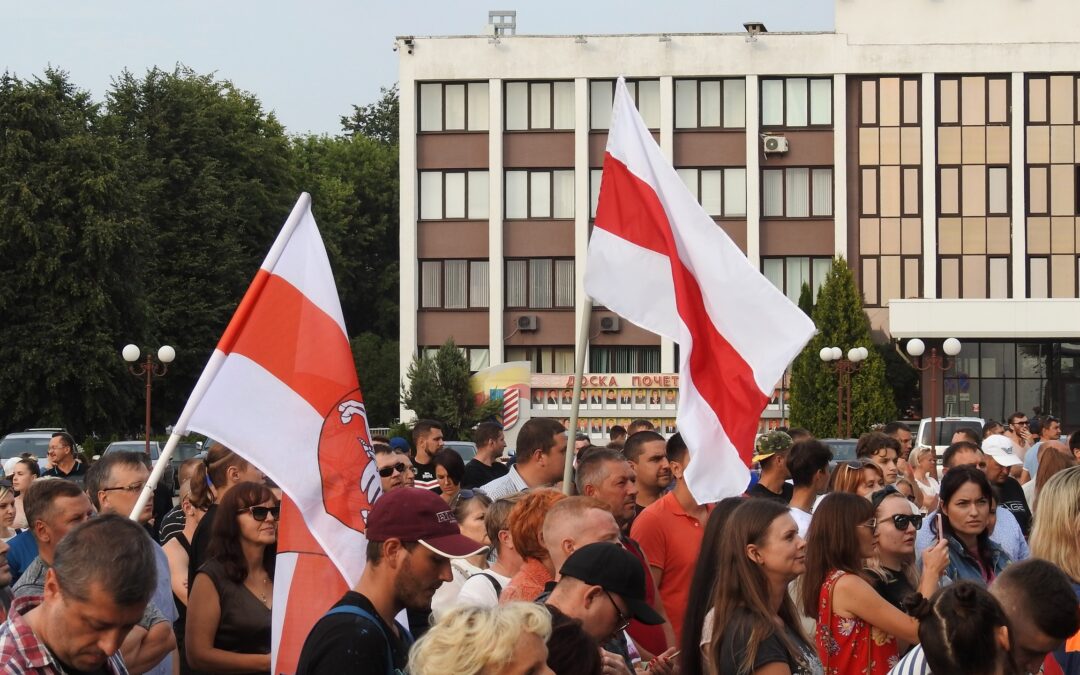 Three union leaders and a worker rights activist were arrested in Belarus, and the government is proposing a new law tightening restrictions on public gatherings as it ramps up repression against unions and their members who are demanding free and fair elections and democratic freedoms like the right to form unions.
Anna Kalupakho, Sergei Lapunov and Andrei Schkirenko of the Belarusian Independent Trade Union (BDP) were arrested in recent days, along with Aleksandr Kashpul, an activist at JSC "Naftan," an oil refinery and petrochemical complex where workers went on strike.
They say they were given no reason for their arrest.
Four striking Naftan workers also are on trial, along with Kalupakho, a strike committee member at the Belarus metallurgical plant in Zhlobino, union leaders say. (Support Naftan workers here.)
Police also came to the local union's office at Naftan, questioning staff about official permits for the union premises. Since then, several police members have patrolled the building, according to union leaders.
"At the moment, we are experiencing an escalation of tensions on the part of the Belarusian government," says a leader of the independent union movement. "A sharp turn for the worst has occurred at JSC Naftan. The enterprise administration uses the police and the prosecutor's office to pressure the striking workers and force them to quit," he says.
Government Seeking to Further Restrict Freedom to Gather
The government is now seeking to amend the country's public demonstration law to legally permit employers to fire, without prior union consent, anyone arrested for participating in a protest event. Proposed amendments also would allow unions to be punished if any of their members participate in a public demonstration that has not received prior approval from government authorities.
"The above changes in the legislation heavily aggravate the already depressing situation with workers and trade unions rights in Belarus," writes Aliaksandr Yarashuk, BKDP president, in a letter to the International Labor Organization (ILO), which is part of the United Nations. "They allow the government to violate grossly and shamelessly the norms of the fundamental ILO Conventions."
(Siarhei Antusevich, BKDP vice president, describes workers' ongoing struggle for democracy in conversation with Solidarity Center Executive Director Shawna Bader-Blau at The Solidarity Center Podcast. Listen here.)
Belarus Independent Unions Win International Prize
The Belarusian Congress of Democratic Trade Unions (BDKP) and its three affiliates, BDP, the Free Metal Workers' Union (SPM) and Belarusian Radio and Electronic Industry Workers' Union (REP) last week were awarded the 2021 Arthur Svensson international prize for trade union rights for their fearless struggle for democracy and union rights.
"The independent trade union movement has been central in the fight against the falsification of election result and the fight for democracy," says Frode Alfheim, president of the Norwegian Industri Energi union, which established the prize to promote and strengthen trade unions and trade union rights internationally.
Workers at factories across Belarus have been fired and sometimes arrested for taking part in pro-democracy rallies. For instance, at the Belarus Metallurgical Plant (BMZ), where workers went on strike in August, four workers were sentenced to more than two years in prison for the "organization of actions in gross violation of public order" in February, and the conviction was upheld in March. Many other strike participants and strike committee activists have been fired and the state-controlled courts have refused to reinstate them, according to union leaders. (Support BMZ workers here.)
Workers at other plants, who took part in an October national day of action in support of The People's Ultimatum, have been fired and some imprisoned, including workers at the Grodno Azot plant. Thirteen fired employees at Grodno Azot plant have submitted a collective appeal, demanding reinstatement and calling out their dismissal as unjustified. (Support the Grodno Azot workers here.)
Global Condemnation for Attacks on Workers
The ILO issued a report in late March reinforcing documentation by the International Trade Union Confederation (ITUC) on widespread arrests, prosecution and firing of workers engaged in strikes and pro-democracy rallies in Belarus, and government repression of basic civic freedoms, such as forming unions, bargaining collectively and striking.
Among other recommendations, the ILO "urges the government to investigate without delay the alleged instances of intimidation or physical violence through an independent judicial inquiry, in order to shed light on the facts and circumstances surrounding these acts, and to identify those responsible, punish the guilty parties and thus prevent the repetition of similar event."
In August 2020, hundreds of thousands of people, often led by union members, many of them women, took to the streets to protest elections in which President Alexander Lukashenko declared himself winner in a landslide victory amid widespread allegations of fraud. Popular opposition candidate, Sviatlana Tsikhanouskaya, was forced into exile, and the government has since arrested at least 30,000 thousand protestors, often torturing them in prison, and an unknown number have been killed.