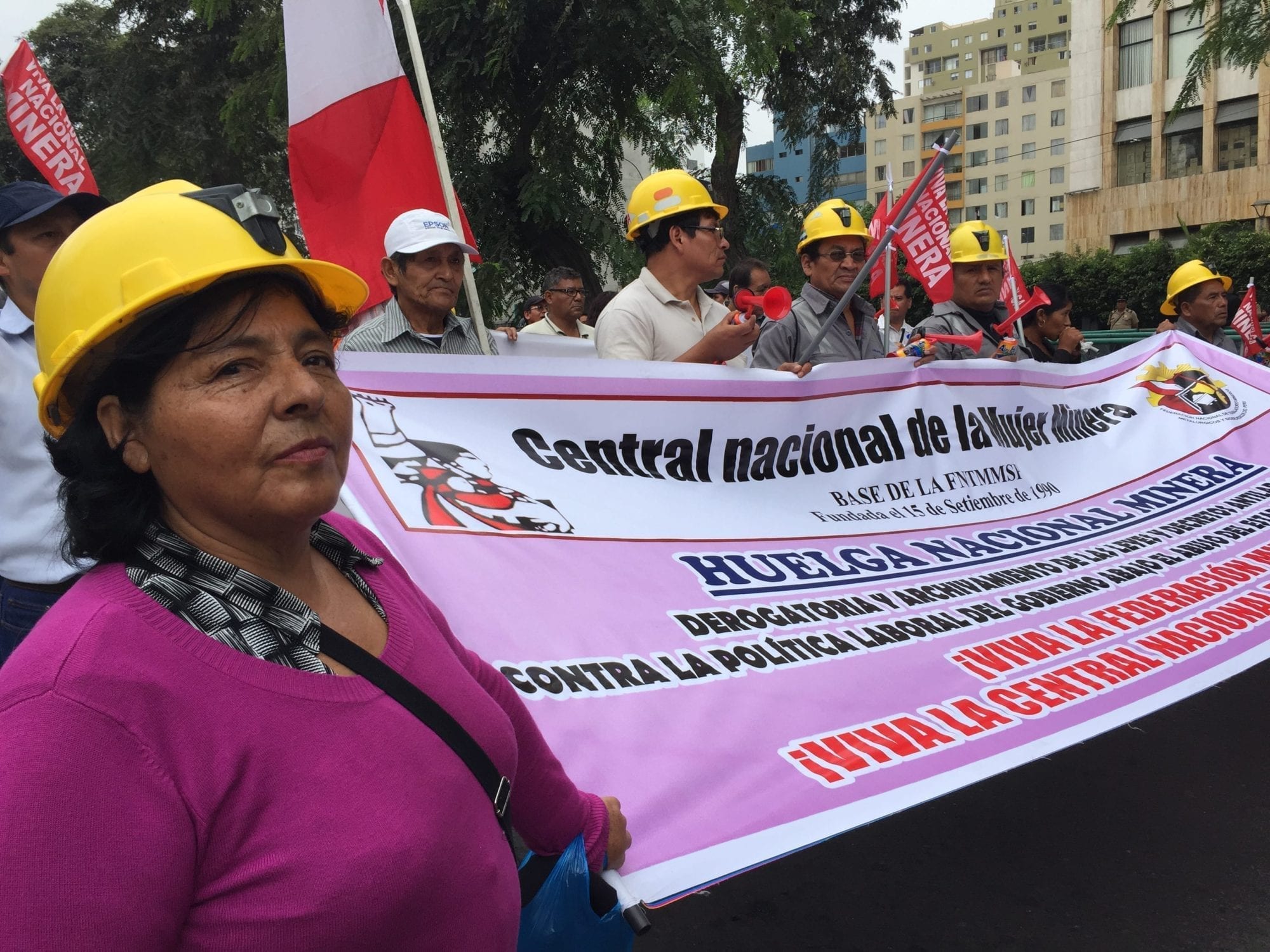 Protesting laws that facilitate mass layoffs and enable large-scale subcontracting of workers' jobs, tens of thousands of Peruvian mineworkers launched a strike Tuesday at the nation's gold, copper, tin and silver mines in regions such as Cerro de Pasco, Puno, Ancash, and Huánuco. Marching in the main square of Juliaca yesterday, mineworkers shouted, "Down with the outsourcing law, mineworkers unite!"
Members of the Mineworkers Federation (FNTMMSP), a Solidarity Center ally, are seeking to halt worker layoffs and prevent passage of a proposed law that, among other detrimental outcomes, would allow 10 percent of workers to be fired when a company reports losses. They are demanding the government repeal outsourcing legislation that union leaders say enables employers to divide the workforce and violate worker rights. (The Mineworkers Federation describes the outsourcing law and why it needs to be repealed in this brochure.)
The Federation is calling for all outsourced workers who currently perform core functions of mining operations to be moved into permanent contracts and also seeks modifications in legislation that would allow outsourced workers to benefit from annual profit sharing, which is the legal right of directly-employed mineworkers.
Further, the Federation is calling for a repeal of additions to Peru's Health and Safety Law, enacted last July at the request of employers, which make it more difficult for injured workers or their families to hold employers accountable for workplace injuries, among other harmful measures.
Ivan Granados, a mineworker, said employers already are using the mass layoff legislation. Granados told Telesur that "at work, they are starting to fire the workers, saying that the company is losing money. They are … harassing people with threats of firing them. That is why we are here fighting."
Mining accounts for up to 15 percent of the Peru's gross national product, and mining exports have grown 4.7 percent over the past year.
"The mineral wealth of a country should be used for the benefit of the people, including the workers, and not to destroy the environment for the benefit of the corporations and politicians," say United Steelworkers (USW) President Leo Gerard and Sindicato Nacional de Mineros President Napoleón Gómez Urrutia in a joint statement backing the mineworkers.
The USW and Sindicato Nacional de Mineros, whose solidarity statements were read at a press conference yesterday, are part of a broad coalition of supporters Peruvian mineworkers are engaging, one that includes the Confederación General de Trabajadores del Perú (CGTP), unions from the telecommunications, textile/apparel and oil/petroleum industries, as well as independent unions—Red Solidaria—and student and youth organizations. A coalition of students, young workers and unions earlier this year successfully repealed a law that reduced salaries and benefits for workers under age 25.
The Mineworkers Federation and its affiliated unions built the campaign to address outsourcing in the mining sector following Solidarity Center trainings and workshops, begun last year, in which they gained information about documenting worker rights violations and developing a policy proposal to improve outsourcing legislation.
Over the past six months, the Solidarity Center also has supported regional workshops for Federation affiliates to raise awareness and collect more information about how outsourcing is undermining decent working conditions—including health and safety in the mines—freedom of association and the right to collectively bargain in Peru's mines.
The Mineworkers Federation also has filed a lawsuit alleging that the outsourcing law is unconstitutional, which has been accepted by Peru's Constitutional Court for review.