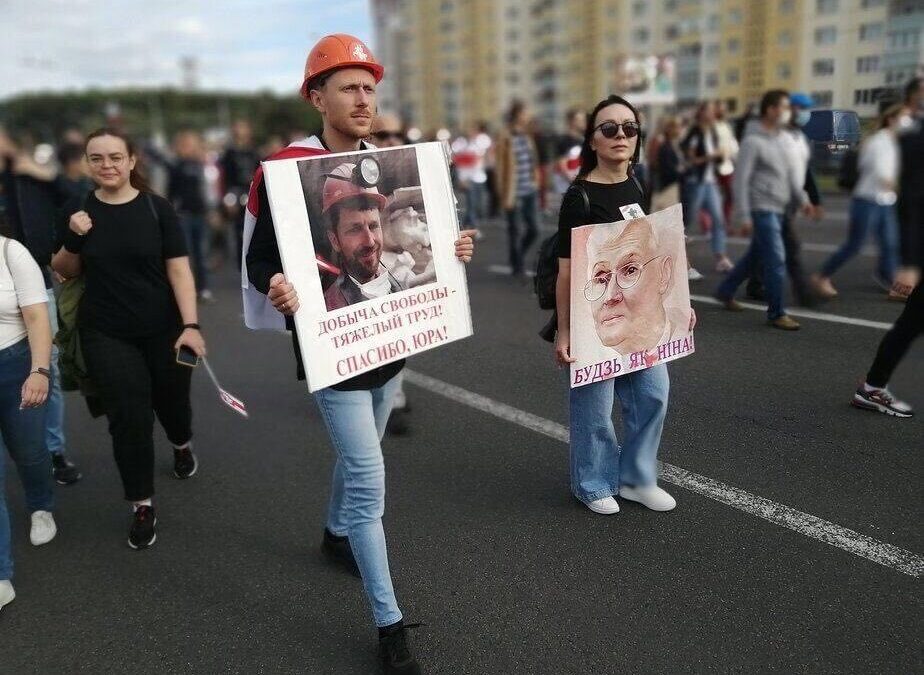 A vicious crackdown in Belarus on striking workers peacefully protesting President Lukashenko's refusal to leave power despite months-long popular protests is drawing the attention and condemnation of worker and human rights experts, including Amnesty International, the AFL-CIO, the Solidarity Center and the International Trade Union Confederation (ITUC).
"The right to strike is guaranteed under international law, and the government is obliged to respect this right, all the more because Belarus has ratified ILO Conventions 87 and 98," says ITUC General Secretary Sharan Burrow, who also denounced Belarus's violation of workers' fundamental right to freedom of assembly and of association rights through police violence and threats targeting the general public.
Lukashenko, in power since 1994, claims to have won the August 9 presidential election by a landslide, even though his political opponents and citizens charge poll-rigging. The country's almost daily protests since then have incurred an authoritarian response that, so far, has led to several deaths, hundreds of injuries and more than 10,000 arrests.
In Minsk, where 100,000 people marched to deliver a "People's Ultimatum," authorities cut off mobile internet access, closed down public transportation, turned out balaclava-clad riot police and military and riot control vehicles at strategic sites, and attacked protesters in the evening.
Participants in Monday's general strike, including ITUC affiliate the Belarusian Congress of Democratic Trade Unions (BKDP), demanded Lukashenko's resignation, a halt to the crackdown and the release of political prisoners. Thousands stayed home or took to the streets—including workers at state-owned factories and private enterprises, including restaurants and cafes—as well as university students and their teachers. At least 155 people were arrested for supporting the strike in Minsk, Borisov, Brest, Grodno, Mogilev and Novopolotsk, human rights group Vesna reported.
Intimidation may have had a chilling factor on the strike, says the BKDP, who also reported that peacefully protesting workers at Minsk's Hi-Technology Park were being intimidated and dispersed. Other intimidation tactics included visits by security officers to the homes of workers who failed to start their shift at Grodno Azot, a major nitrogen fertilizer producer in Grodno, as reported by the Associated Press.
"A frank disregard is being shown for the most basic of human rights, and the right to strike is now one more that is being mercilessly crushed," says Amnesty International Acting Director for Eastern Europe and Central Asia Denis Krivosheev.
The AFL-CIO, in a letter to the BKDP president, praised the BKDP, its affiliates and members for their support for worker rights and democracy despite government repression and harassment.
"Intimidation must end. We support the right of workers to participate in collective actions specifically to demand fair and democratic elections," says Solidarity Center Europe and Central Asia Director Rudy Porter.
The ITUC Global Rights Index, has ranked Belarus "no guarantee of rights" for many years under Lukashenko's government, including in 2020, in part because legal strikes are effectively impossible while illegal strikes fall afoul of severely punitive legislation.
Update: Read the BKDP's November 2 statement regarding the punishment of striking workers and their leaders, in Russian.