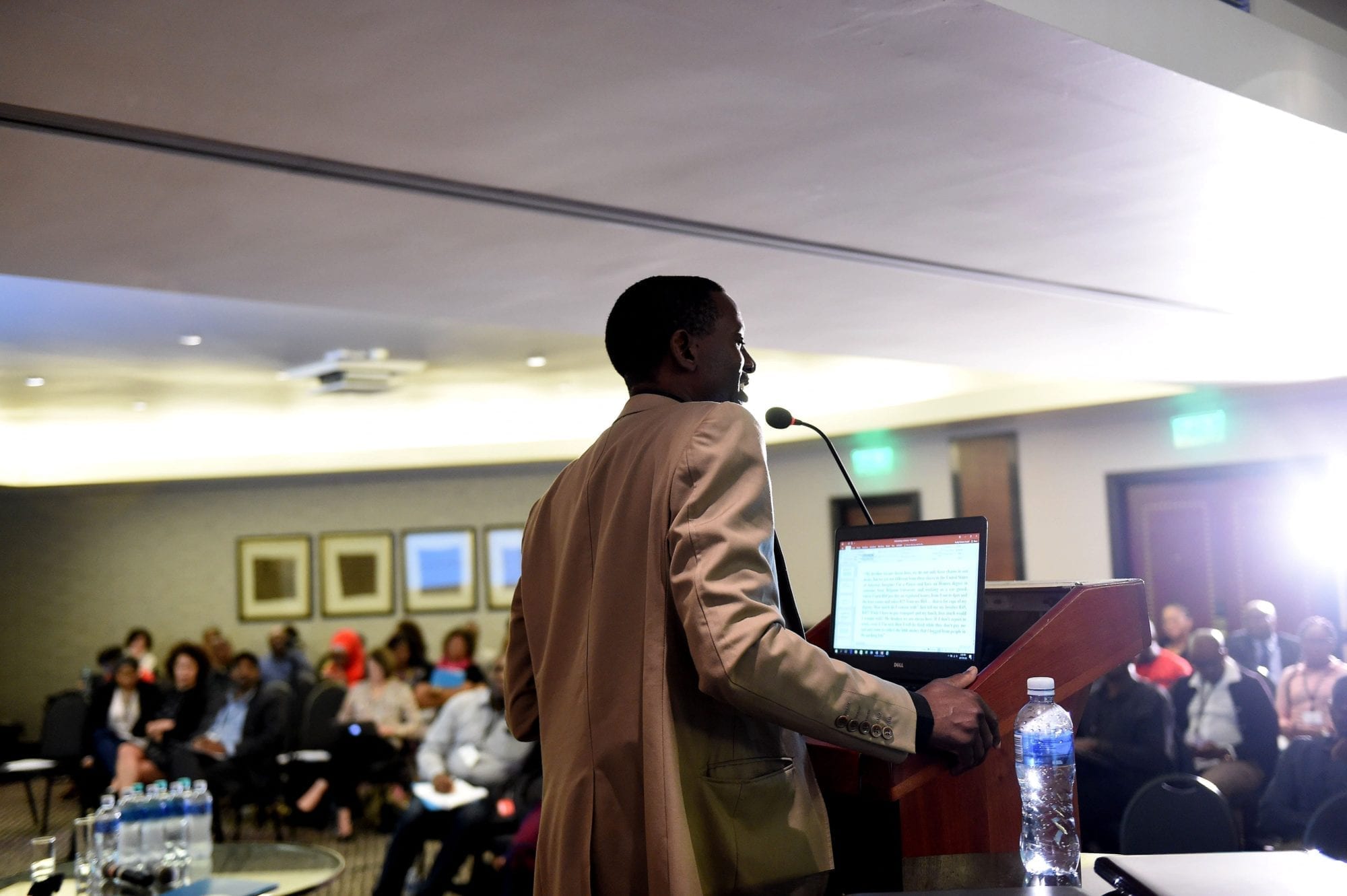 Xenophobia and racism are embedded in the daily economic and social situation of labor migrants and refugees, according to Joseph Rudigi Rukema, a sociology professor at the University of KwaZulu-Natal.
"The world is witnessing a growing level of intolerance against foreign labor migrants, refugee and asylum seekers," he s­­­­­­ays. Rukema kicked off the afternoon session of the first day at the January 25–27 Solidarity Center Fair Labor Migration conference in Johannesburg, South Africa. (See more conference coverage here.)
The more than 120 conference participants joined in discussions on xenophobia and racism and ended the day by strategizing at break-out sessions on union responses to migration flows and migrant worker exploitation.
Although Rukema focused his presentation on conditions in South Africa, the experiences of migrant workers he described occurs across Africa—and the world.
The exploitation of migrant workers begins with their journey, as labor brokers and others take advantage of their precarious situation, says Rukema. After migrant workers arrive in their destination countries, they "define racism in terms of their working conditions"—such as employer exploitation, he says. Migrant workers also are subject to daily harassment by police and other officials, often inhumane treatment by officials when seeking work permits and lack of access to banking institutions.
"If you look at most of migrants, they flee economic conditions in their home countries," says Rukema, and unions can play an important role by advocating creation of conducive economic and political condition in migrants' home countries.
"Build a network with existing institutions and really strong grassroots networks," he says. (Download Rukema's full presentation here.)
In the two final break-out sessions, participants discussed the challenges to reaching and empowering migrant workers. They identified such obstacles as the difficulty in reaching informal economy workers, many of whom are migrant workers; xenophobia and suspicion by local residents; and the difficulty in documenting those migrating for work.
Further, union leaders pointed to the need to step up efforts to ensure their governments ratify international conventions, especially the International Labor Organization Convention 143 on migrant workers, and develop comprehensive strategies to ensure migrant workers are represented.
Over the next two days, conference participants will develop concrete proposals to meet the challenges of empowering migrant workers. You can follow the conference on Twitter with the hashtag FairMigration and check out Solidarity Center on Facebook for regular updates.