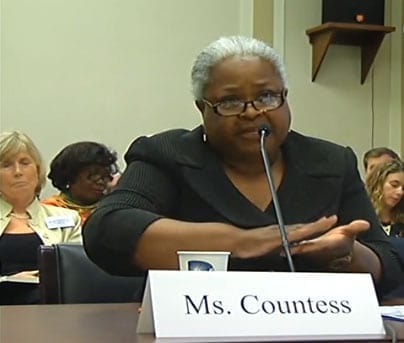 Zimbabwe's economy is in deep decline, making it harder for average Zimbabweans to work and live, and leaving them less and less confident in their future, according to Solidarity Center Regional Program Director for Africa Imani Countess, in testimony yesterday on Capitol Hill.
"Most workers earn salaries far below the poverty level, and many workers—even in the formal sector—go for months without receiving their wages," Countess said. (Read her full testimony here.)
Countess was among three panelists speaking at a hearing on the Future of U.S.-Zimbabwe Relations, held by the U.S. House Subcommittee on Africa, Global Health, Global Human Rights, and International Organizations.
She cited a recent AfroBarometer survey of 2,400 randomly selected participants that details the extent of Zimbabwe's economic crisis:
33 percent of respondents in urban areas had gone without food at least once this year.
52 percent in urban areas had gone without medical care.
59 percent in urban areas had gone without water.
Nearly two-thirds say "unemployment is the biggest problem government should address."
According to the Zimbabwe Congress of Trade Unions, Countess said, "most human rights defenders, like trade unions and civic organizations have been severely weakened due to economic decline as well as brain drain."
Countess told lawmakers that Zimbabwe labor unions and workers are looking for U.S. policy that includes strong support for human rights defenders and community-based, mass organizations that work to educate and organize citizens around a rights-based culture. Zimbabwe unions also seek U.S. support to provide stronger protection for informal economy workers, that in turn, can positively influence the flow of economic migrants.
Other panelists included Shannon Smith, U.S. State Department deputy assistant secretary for the Bureau of African Affairs and Ben Freeth, Mike Campbell Foundation executive director.