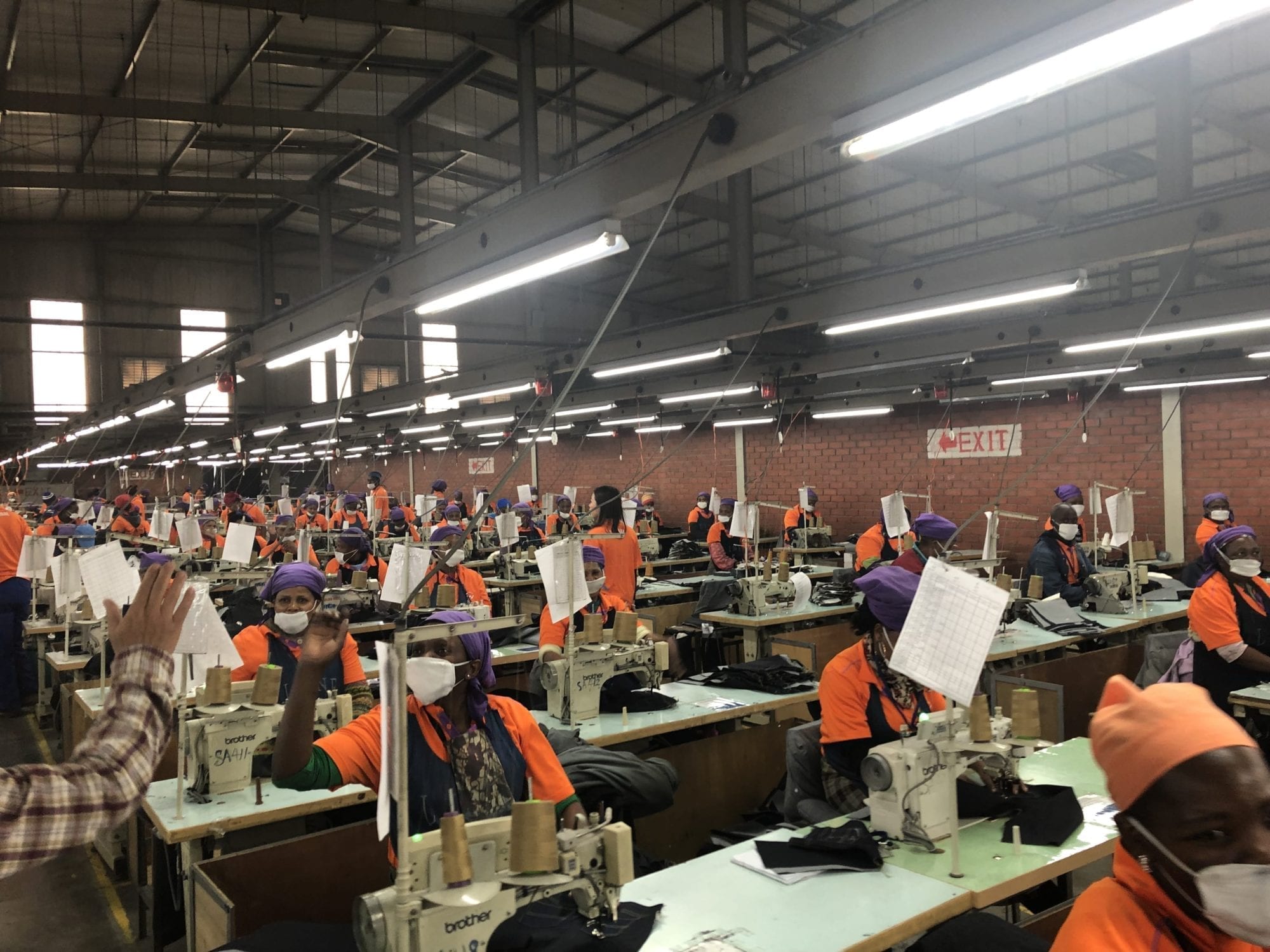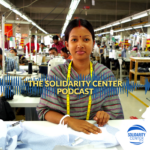 Thousands of mostly women garment workers in Lesotho who produce jeans and knitwear for the global market are standing up to gender-based violence and harassment (GBVH) at their factories, homes and communities after participating in education and awareness training, part of a pathbreaking, worker-centered program negotiated in part by the Solidarity Center. And, as a result of the trainings, they now are taking on new leadership roles in their unions.
"What we've seen is workers not just talking about what's happening in the workplace but taking those conversations to the community and being involved in conversations around changing laws governing marriage and property," says Solidarity Center Africa Regional Director Chris Johnson. "Since the workshops and investigations of misconduct, workers see that this is real, and also have demanded more from their own unions."
The program stems from an unprecedented 2019 agreement in which Lesotho-based unions and women's rights groups, major fashion brands and international worker rights organizations, including the Solidarity Center, negotiated an agreement with the factory owner, Nien Hsing Textiles, to end rampant GBVH at multiple factories in Lesotho. 
As part of the program, which launched in 2021 following pandemic-related delays, garment workers also helped craft a Program Code of Conduct and have access to a complaint and investigation process independent of the employer.
The agreement is legally binding, a key reason for its success. Crucially, it recognizes that the freedom to form unions and act collectively is a prerequisite for other elements of the program. It protects union organizing and prohibits anti-union retaliation, addressing years of hostility by management toward the factory unions, which are one of the most powerful tools to combat GBVH. 
Garment Workers in New Roles as Community Activists
The interactive workshops, led by union leaders and women's rights advocates, facilitated discussion of GBVH and workers' role in changing the culture in the factories to end harassment and abuse. Some 6,500 workers, managers and supervisors in several factories have participated in the education and training sessions.
The training process itself was transforming, says Nhlanhla Mabizela, Solidarity Center field program specialist for Lesotho.
Some of the union women trainers had never spoken before a group, "but through this program, we were asking them to facilitate and talk about something that was very difficult and we were also asking them to stand in front of people and talk about a very closed issue," Mabizela says. Now, they "have gained confidence through this program.
"They can stand in their full presence and be able to address people and talk about fundamental issues that need to be addressed."
Even as the incidence of GBVH in the factories has been substantially reduced and perpetrators punished, garment workers have taken the information beyond their workplaces to their homes and communities, where they are championing their right to safe environments. They have internalized the curricula and make examples that people can relate to in their own communities, Mabizela says.
Says Johnson: "Women are saying, 'We are employed by largest private-sector employer in the country that recognizes our humanity. That should not stop once we go past the gates of the factory.'"
Women garment workers are now publicly linking the scourge of gender-based violence and harassment at the workplace with a 1903 law that defines women as minors with no inheritance rights. "They took this issue—in a conservative, very patriarchal society—and went on a radio show to talk about how bad the law is," he says.
Mabizela says he has heard garment workers talk about how the process has given them a voice, telling him, "I am a person today because of this program."
"Now they see themselves as worthy," he says. "They are now comfortable dressing the way they dress, walking the way they walk. They were used to conforming to how ladies are supposed to be. Now they are embracing who they are."
Women Now Leading Their Unions
With knowledge of their rights and their success in acting collectively to protect those rights when challenging inequality in the workplace, more and more women are taking leadership roles in their unions, standing for union election and actively participating in decision-making.
Although 85 percent of garment workers in Lesotho are women, union leadership traditionally has been comprised of male leaders with experience in mining and heavy industry. Since the training, "workers have demanded more from their own unions," says Johnson. The three unions involved in the program all recently held elections, with women taking key leadership positions, including president and first president.
With unions more fully representative of their membership, women leaders have helped strengthen the Lesotho union movement and, in doing so, are generating stronger connections with South African trade unions.
With the Solidarity Center support, garment workers from Lesotho met their counterparts in South Africa and they will now work together to address the challenges of border factories. As companies seek to pay lower wages and fewer benefits, garment factories are setting up short-term facilities in South African border towns where regulations are minimal. By working together, unions from the two countries can build worker activism in these areas to demand decent work.
"South African unions are clear about their desire to work with their counterparts in Lesotho," says Johnson. "That's in response to the new level of union activism in Lesotho."
Ending Gendered Brutality, Building Democracy
During a 2021 strike in which garment workers implored the government to make good on promised incremental wage increases, several women were killed and others, including children, injured by special government forces. For the women union members, the gendered aspect of the assault was clear. 
So, when the U.S. Embassy asked the Lesotho government about its response to state violence and human trafficking and the government did not respond, garment workers joined with the police corrections associations to meet with government officials. The stakes were high—without a response, the United States could delist Lesotho from the Africa Growth and Opportunity Act (AGOA), a trade preference agreement covering the country's textile industry. Their successful intervention—union members pointed out that losing AGOA would crush jobs and generate more crime—resulted in a government response and Lesotho's continued participation in AGOA.
"In Lesotho, we are seeing that as people grow in confidence, they have conversations with their comrades that is influencing how the trade union is viewed and in the power the trade union has in society," says Mabizela. People in communities "are witnessing how a trade union is concerned about the livelihood of society at large. That on its own is a very powerful and very significant role."