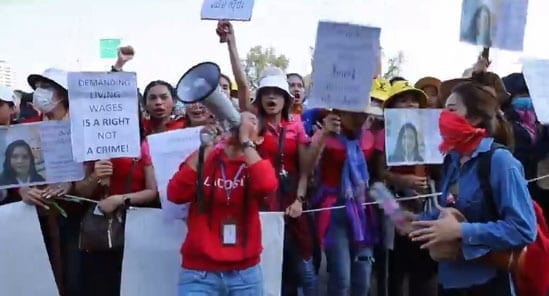 Thousands of casino workers at NagaWorld hotel and casino complex in Phnom Penh, Cambodia, won a wage increase that boosts pay between 18 percent and 30 percent and secured the reinstatement of union president Sithar Chhim, who was suspended from her job in September for defending the right of a union member to wear a shirt with a message that called for higher wages. The agreement also provides a $200 incentive for workers without health insurance and a bonus equal to roughly two months' salary, says Chhim.
Some 5,000 of the 8,000 workers—including dealers, slot machine workers, housekeepers and technicians—struck the casino January 9, and more than 4,000 rallied outside the complex for two days with signs saying "Demanding living wages is a right, not a crime!" and holding placards with photos of Chhim seeking her reinstatement. Chhim, a game floor supervisor, is branch president for the Khmer Employees' Labor Rights Support Union of NagaWorld.
NagaCorp, a five-hotel resort and casino, has an exclusive, multidecade license to operate in Phnom Penh and reported an estimated $1.8 billion in revenue last year, up from $1.5 billion in 2018. Yet housekeepers are paid $191 per month.
In May, nearly all 4,000 union members signed a petition demanding a wage increase, and the union began negotiations with the employer in June. When the company did not return to the bargaining table after three months as it indicated it would, more than 1,500 union members met September 19 and agreed to wear T-shirts with a message highlighting the company's profits and expressing workers' need for a wage that pays their rent, food, transportation and other basic monthly expenses.
The next day, Chhim was detained for hours at the facility and suspended. Union members immediately walked out in support of her. Sithar told Equal Times she then urged her colleagues to continue to work as usual, while organizing subtle protest actions, which included union members wearing pink face masks, black armbands and other markers of solidarity as they enter and exit the tightly guarded checkpoints of the complex.
After the union provided legal notice of the strike, the company continued hiring new workers, providing them accommodation and food in the company's building and prohibiting them from leaving the facilities or contacting their families, according to the union.
Challenging Environment for Workers

The casino workers' victory is all the more notable because of the many recent challenges to worker wrights in Cambodia.
Union leaders say amendments to 10 articles in Cambodia's Law on Trade Unions restrict fundamental union activities. For instance, one amendment deprives unions of their right to hold legal strikes. "[Holding] a legal strike is always difficult, and I think the barriers in the Trade Union Law have actually made it more difficult," says William Conklin, Solidarity Center Cambodia country director.
Cambodia's labor rights are currently under intense scrutiny, as the European Union decides whether to rescind the nation's  preferential trade status that grants Cambodian exports duty-free access into EU markets.