I Support the Solidarity Center's Next 20 Years!
Over the past 20 years, we have advanced the Solidarity Center's core values of equality and inclusion; solidarity; partnership; rights-based worker empowerment; and the dignity of work.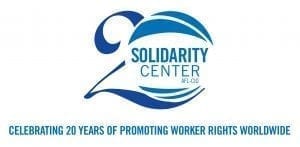 And we are proud to be an active partner with the labor, migration, gender, human rights and democracy communities in their important work.
Your donation will support our redoubled efforts in 2017 to fight dangerous trends to diminish worker rights and help migrants achieve the dignity they deserve.
With your support, we can build a better future for workers around the world today—and over the next 20 years.