2020 Calendar of Events
Wednesday, March 11, 2020
Unions Leading: Creation of a Feminist World of Work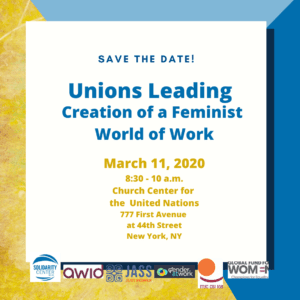 In a parallel event in conjunction with the 64th session of the United Nations Commission on the Status of Women (CSW), this Solidarity Center-cosponsored event will provide worker, human and women's rights organizations a forum to discuss the role of unions in creating a feminist world of work. Co-sponsors include AWID, International Trade Union Confederation (ITUC), Just Associates (JASS) and Global Fund for Women.
Time: 8:30-10:00 A.M.
Place: Church Center for the United Nations, 777 First Avenue at 44th Street, NYC
---
---
Wednesday, January 15, 2020
The Trafficking Victims Protection Act at 20: A Look Back – and a Look Ahead 
Join the Tom Lantos Human Rights Commission for a hearing on the effect the Trafficking Victims Protection Act (TVPA) has had in addressing the scourge of sex and labor trafficking around the world. The Commission will host experts to discuss innovative approaches to combating modern slavery and how U.S. resources contribute to this fight. Includes panelist Neha Misra, Solidarity Center Senior Specialist – Migration and Human Trafficking.

Time: 2:00 P.M. 
Place: 2200 Rayburn House Office Building
For questions, contact Piero Tozzi at 202-225-3765 (for Rep. Smith) or Kimberly Stanton at 202-225-3599 (for Rep. McGovern).
The hearing will be livestreamed via the Commission website. 
---
---
Friday, January 17, 2020
Briefing on the Trafficking and Severe Labor Exploitation of Domestic Workers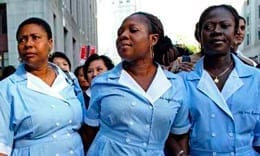 Hosted by the Office of U.S. House Representative Pramila Jayapal and the Congressional Asian Pacific American Caucus, this briefing will focus on the prevalence of trafficking, severe labor exploitation, wage theft and abuse and harassment in the domestic work industry. Speakers will explain the impacts of these abuses on workers and their families, the reasons for the abuse and the most promising solutions. Includes Alexis De Simone, Solidarity Center program officer. 

Time: 12-1:15 P.M.
Place: Longworth House Office Building 1539
RSVP here.
---
---
February 20, 2020
World Day of Social Justice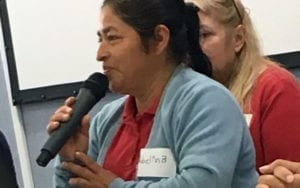 The United Nations' (UN) World Day of Social Justice is annually observed on February 20 to encourage people to look at how social justice affects poverty eradication. It also focuses on the goal of achieving full employment and support for social integration.
---
---
April 4, 2020
Anniversary of the Rana Plaza Distaster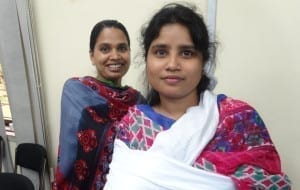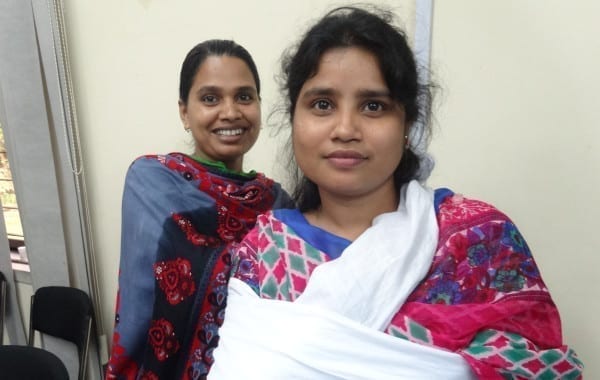 Workers will commemorate the anniversary of the deadly Rana Plaza building collapse in Bangladesh, in which 1,100 garment workers were killed as the multi-story building pancaked in a preventable accident that also left thousands severely injured. Years later, many survivors and their families say they have received little or no compensation, and many survivors are unable to work again.
---
---
April 28, 2020
World Day for Safety and Health at Work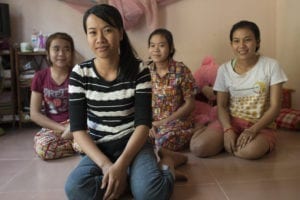 This year the ILO's World Day for Safety and Health at Work joins with the World Day Against Child Labor for a  campaign to improve the safety and health of young workers and end child labor.
The 541 million young workers (15-24 years old) account for more than 15 per cent of the world's labor force and suffer up to a 40 percent higher rate of non-fatal occupational injuries than adult workers older than 25.
---
---
 June 12, 2020
World Day against Child Labor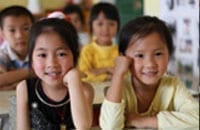 The most recent global estimates suggest some 120 million children between the ages of 5 and 14 are involved in child labor, with boys and girls in this age group almost equally affected. The persistence of child labor is rooted in poverty and lack of decent work for adults, lack of social protection and a failure to ensure that all children are attending school through to the legal minimum age for admission to employment.
The annual World Day Against Child Labor, established by the United Nations, is an opportunity to raise your voice against child labor and in the call for all children to have a right to education.
---
---
June 16, 2020
International Domestic Workers Day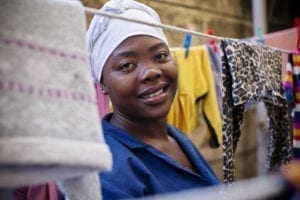 Today marks the fourth anniversary of the United Nation's passage of Domestic Workers Convention 189, which asserts that domestic workers are entitled to the same basic rights as those available to other workers, including weekly days off, limits to hours of work, minimum wage coverage, overtime compensation, and clear information on the terms and conditions of employment.
---
---
July 18, 2020
Nelson Mandela Day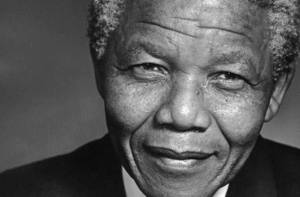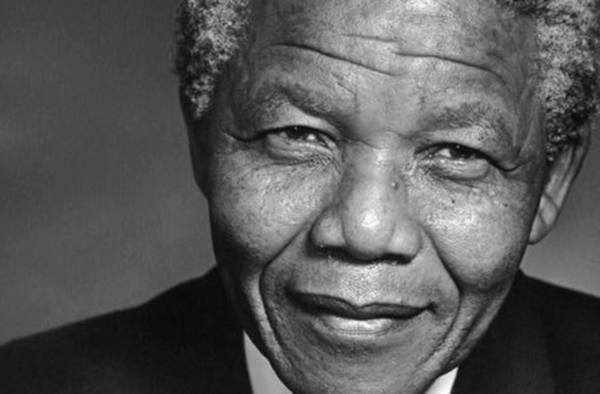 The global union movement celebrates Nelson Mandela on the 97th anniversary of his birth. Nelson Mandela International Day was launched in 2009 via unanimous decision of the United Nations General Assembly.
In championing justice, equality and democracy, Mandela made it clear that worker rights are an essential part of achieving those goals. As he said: "The kind of democracy that we all seek to build demands that we deepen and broaden the rights of all citizens. This includes a culture of workers' rights."
---
---
July 30, 2020
World Day against Trafficking in Persons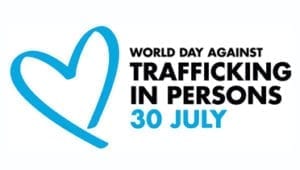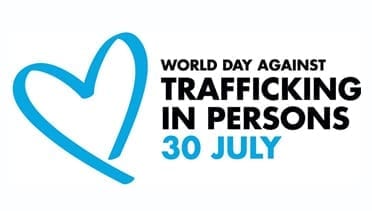 Each year millions of children, women and men from all regions of the world are trafficked, their hope stolen. Today year marks the second United Nations World Day against Trafficking in Persons to raise awareness about this crime, and to send a message of hope to all those trapped in this abuse.
---
---
October 7, 2020
World Day for Decent Work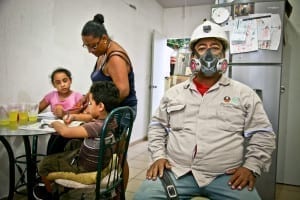 Decent work means not only employment, but workplaces that are safe, healthy and that provide workers with wages that support their families. Decent work is about fairness on the job and social protections for workers when they are sick, injured or retire.
Find out more about World Day for Decent Work.
---
---
November 25, 2020
International Day for the Elimination of Violence against Women
One-third of women globally have experienced gender-based violence in their homes and on the job. Gender-based violence at work includes verbal abuse, threats of abuse, sexual abuse, bullying, psychological abuse, threats of murder and murder, economic and financial abuse, stalking and forced prostitution. Each year, the United Nations sets November 24 as a day to reflect on, and take action against, this pervasive scourge.
---
---
December 1, 2020
World Aids Day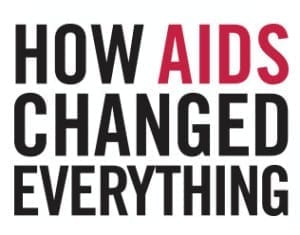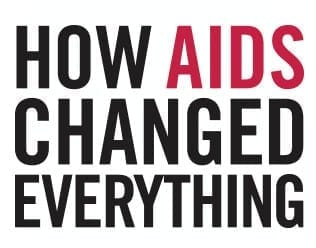 The United Nations set a goal to end AIDS by 2030, and each year marks December 1 as World AIDS Day to encourage people around the world to take action to prevent HIV/AIDS by educating and sharing information on how to prevent the disease.
---
---
December 2, 2020
International Day for the Abolition of Slavery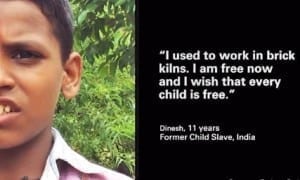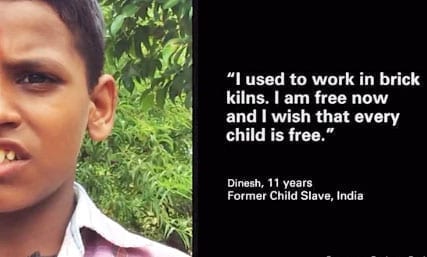 There are 5.5 million child slaves in the world. This is just an estimate of the number of children in forced labor, because trafficking as an illicit crime is hard to measure. Children in slavery can be found all around you—be it in domestic homes, in shops, in roadside eateries, in agricultural farms, in factories, in brothels, in mines
#EndChildSlaveryWeek is a campaign to raise awareness on all forms of child slavery and to encourage everyone to raise our voices and take action against this modern day slavery.
---
---
December 10, 2020
International Human Rights Day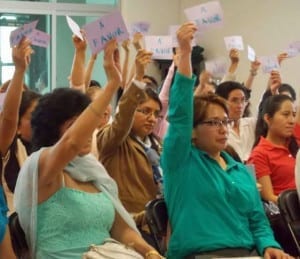 The United Nations General Assembly proclaimed December 10 as Human Rights Day in 1950, to bring to the attention to "the peoples of the world" the Universal Declaration of Human Rights as the common standard of achievement for all peoples and all nations.
Among its provisions, the Human Rights Declaration grants all people "the right to work, to free choice of employment, to just and favorable conditions of work and to protection against unemployment," and the right to form and to join trade unions.
Domestic workers in Mexico cast their votes to form a union in August 2015. Credit: CACEH
---
---
December 18, 2020
International Migrants Day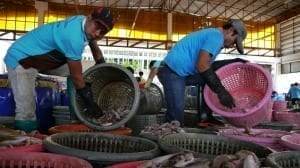 An estimated 200,000 Burmese migrants fuel Thailand's huge fishing industry. Credit: Solidarity Center/Jeanne Hallacy
The United Nations General Assembly proclaimed December 18 as International Migrants Day on the date in 1990 that the General Assembly adopted the International Convention on the Protection of the Rights of All Migrant Workers and Members of Their Families.
Labor migration feeds the global economy. There are an estimated 247 million migrants in the world, the overwhelming majority migrating for work. Migrant workers generated global remittances of more than $580 billion in 2013.